Biodanza Margaret River – Elemental Archetypes Retreat with Guests Kate and Claudio
November 10

-

November 12

$330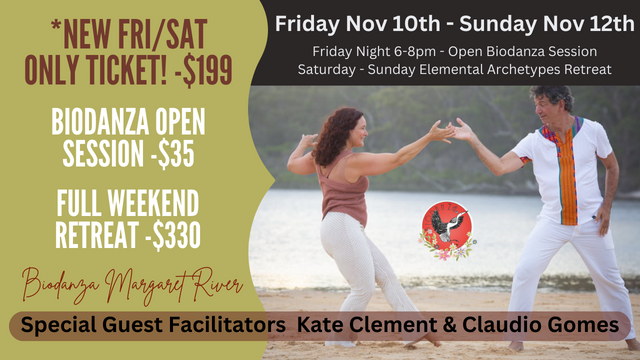 Biodanza Margaret River are excited to be hosting The Elemental Archetypes – 4 Animals Biodanza Retreat in November 2023!
If you are feeling this moment right now is ripe with potential and something stirring at a deeper level, this weekend offers a container for what is ready to be danced within you.
This workshop invites you to dance in terms of the qualities and movements of these animals. Being danced by archetypes is a direct route to the collective unconscious – the great storehouse of human wisdom and evolution.
Shamanism and healing all over the world are inspired by the power of animals. How they move through the world, express their instincts, and capitalise on their strengths and abilities.
Dancing them gives us access to ancient wisdom on keeping our instincts alive and well and enlivens our genetic potential amplifying the expression of who we are and what we can express as we move through life.
It's great if you have some experience with Biodanza and a willingness to deep dive into a supportive and transformative group container for the weekend but it is also not a must, feel free to discuss further if it's your first time experiencing Biodanza.
************ ************** ************* **************
**FACILITATORS**
Kate Clement:
Kate has been facilitating Biodanza for over 20 years, is a Director of the Biodanza Australia School of Australia and has a deeply profound knowledge of the Biodanza system, having Kate here again in Margaret River to run this retreat with us is another great opportunity to be a part of and if you missed it in June, here is another chance!
See bio: 
https://biodanza.com.au/facilitators/kate
Claudio Gomez:
Claudio danced Biodanza for a decade in Brazil before coming to Australia and founding the Sydney Zouk scene. Claudios passion for dance and movement are evident in the way he facilitates.
https://biodanza.com.au/facilitators/claudio/
Together Kate and Claudio are a power duo who facilitate Biodanza groups and workshops including the Minotaur Project through their business 
https://biocentrica.com.au/biodanza/
 in Australia as well as Internationally.
The Uralba Eco Farm Venue is a beautiful, secluded paradise where we can immerse ourselves in nature and have special moments to share and relax in between sessions and meal times.
************ ************** ************* **************
**REGISTER & COSTS**
FULL RETREAT:
Early Bird price – $315 (Sept 5th – October 1st)
Full Price – $365 (October 1st onwards)
************ ************** ************* **************
**RETREAT DETAILS**
FRIDAY November 10th
Margaret River Karate Club, Wallcliffe Rd, Margaret River
Open Biodanza Session
6.00-8.00pm
SATURDAY November 11th
Uralba Eco Farm, Ellen brook Rd, Cowaramup
10am – 8pm
Snacks & Tea (provided)
Lunch (bring along something to share)
Dinner (provided)
SUNDAY November 12th
Uralba Eco Farm, Ellen brook Rd, Cowaramup
10am – 5pm
Snacks & Tea (provided)
Lunch (bring along something to share if needed)
Dinner (Opportunity for social dinner afterwards in Margaret River)
ACCOMMODATION OPTIONS – If coming from out of town, accommodation will need to be booked separately. Ideally staying within the Cowaramup/Margaret River area would be the most convenient.
************ ************** ************* **************
**CONTACT**
Jasmin Rouw
0405 964 860
jasmin.rouw@gmail.com
We look forward to sharing our love of Biodanza with you!
Jasmin, Kate & Claudio
************ ************** ************* **************
Some Comments from Participants from our last Biodanza retreat held in June:
"Loved it all as a newbie… super welcoming facilitators, wonderful venue and great women (and men) to dance with. I have never done anything like this before and found it liberating and cathartic in equal measures. Thank u – truly nourishing :0)
Caroline
Perth WA"
"Fabulous first experience of a Biodanza weekend "
"Great venue, food, people lots of fun and some serious stuff!"
"Thank you so much, I had a wonderful time."
************ ************** ************* **************